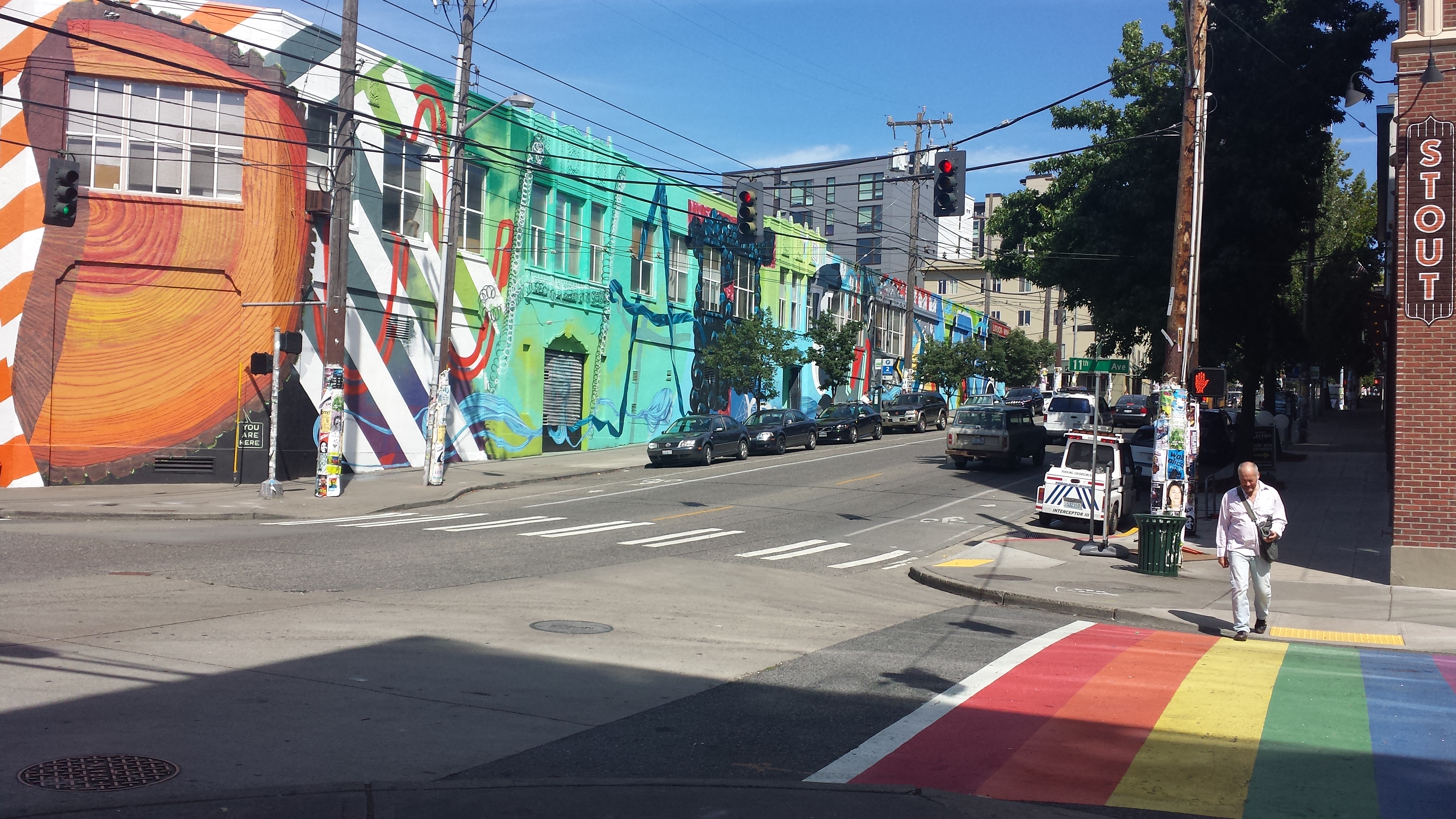 11th Ave and Pine E Street
Seattle is a "city of neighborhoods". A large town born from early settlements that eventually were incorporated into the Emerald City.
Capitol Hill (or Broadway Hill as it used to be called until 1900) is one of those neighborhoods. It is known for being the counterculture district, the LGBT epicenter, the stronghold of art and music.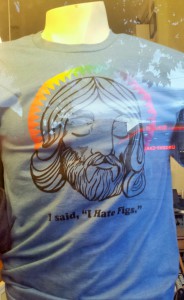 (Humorous shirt at Retail Therapy: "I said, I hate figs")
A walk through Capitol Hill can be full of surprises. It is filled with colorful people (as my friend Bob describes them), diverse people who proudly express their essence without feeling judged, people who embrace different practices of life with complete openness.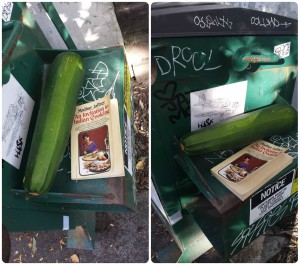 (More humor and creativity!
A zucchini paired with the book "An introduction to Indian Cooking".
The fact it is by a trash can only makes me think this person doesn't like Indian food,
which it's totally his loss. Indian food is beyond delicious!)
This freedom of being-who-you-want-to-be is what brought me here.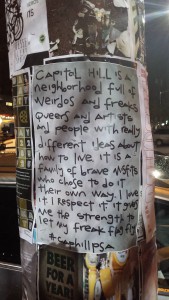 (Capitol Hill is a neighborhood full of weirdos and freaks,
Queers and artists and people with really different ideas about how to live.
It is a family of brave misfits who chose to do it their own way.
I love it. Respect it. It gives me the strength to let my freak flag fly.)
Drag queen shows (even at brunch time), gay clubs (the only place where Seattleites dance), bike polo, bubble soccer, underground venues and improvised bucket drummers give this neighborhood its eclectic, artist character.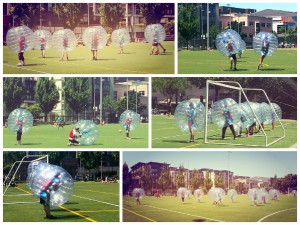 (Seattle Bubble Soccer at Cal Anderson Park
http://www.bubblesoccerseattle.net/)
Sadly, in more recent years, Capitol Hill has made the front page due to its rapid gentrification and increased crime.
New constructions sprouting up like weeds, micro-apartments (or more "wittily" called: Apodment) are taking over every corner, mostly attracting techies who are among the few able to afford them.
(Apodments can be as small as 90 sq. ft. and cost up to $2000 or more.
Bathroom is not always private)
These buildings were thought for single young professionals, people who don't need a kitchen as they can and will order out every meal, people who doesn't need to a have a space to create as they chose Capitol Hill for its already existing entertainment. These buildings were mostly designed for party goers who only need a place to sleep.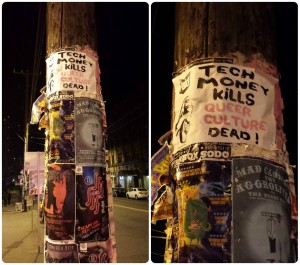 (Tech Monkey Kills – Queer Culture Dead!)
This bourgeois wave is straying away from its typical artsy-rocker dwellers, replacing it with brogrammers and woo girls shaping the area into a misogynist- homophobic monoculture creating conflicts from within.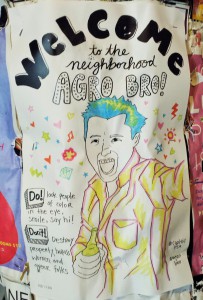 (WELCOME to the neighborhood AGRO BRO!
DO! Look people of color in the eye, smile, say Hi!
     DON'T! Destroy property, harass women and queer folks)
 While Seattle police deal with the slaying of spiked crime, artists made the issue more visible by plastering telephone poles, electrical boxes and random walls all over Capitol Hill, contesting the neighborhood incursion peacefully and creatively.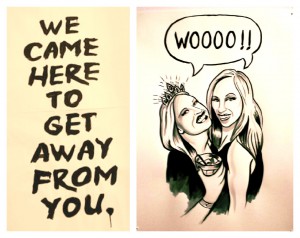 (More of John Criscitello's guerrilla posters: "We Came Here To Get Away From You"…
Although Barney from How I Met Your Mother would argue that:
"The world absolutely needs Woo Girls. If there were no Woo Girls,
there would be no 'Girls Gone Wild,'
no bachelorette parties, no Las Vegas poolside bars").
Some say, in order to move forward we need to re(in)novate.
Other say, re(in)novation brings displacement.
Either way…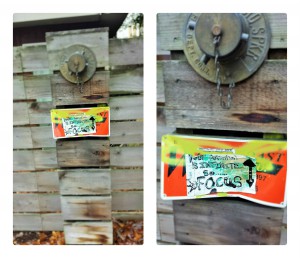 …"Your potential is infinite so…FOCUS".