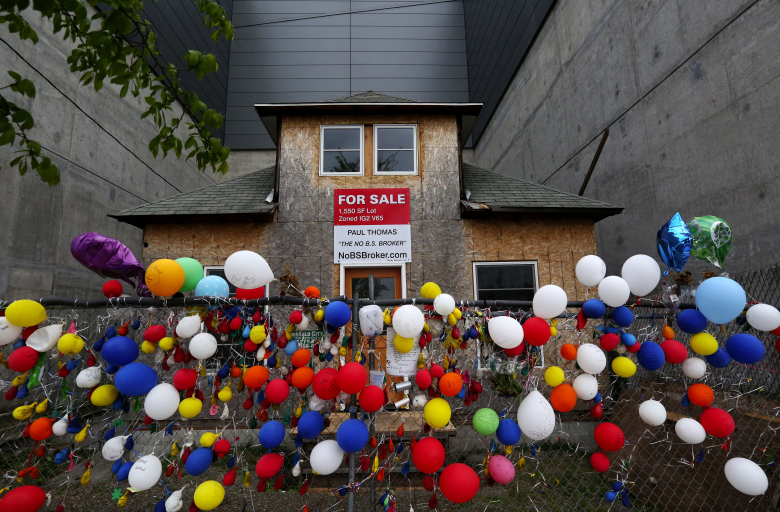 In the Seattle neighborhood of Ballard, there's a tiny single family home squished between two giant grey buildings, known as the Up House.
The 108 year-old house belonged to Edith Macefield, who turned down an offer of allegedly $1 million dollars, to make room for commercial development.
The nickname originated when Disney attached balloons to the roof of the house, as a promotional stunt for Up, a movie in which a stubborn old man who refuses to sell his land to accommodate new constructions, closely resembled the one of Macefield's.
The early 20th century residence was originally built in Pioneer Square (the oldest neighborhood in Seattle) but Edith's mother had it moved to its current location.
Mother and daugther lived in that same place until their death (respectively in 1976 and 2008) and neither of them relinquished to the "New Seattle" condo-booming trend, despite the entire surrounding block was getting torn down. It was their little piece of heaven and they were not going to let it go.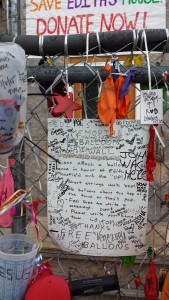 Edith Macefield became a local celebrity. The old lady who said No! to big developers, a second generation real-estate hold out, who denied bigger and bigger offers.
She was a  woman of a thousand mysteries who considered herself an artist, a writer and musician. She self-published a book, claimed to have served as an undercover agent during World War II, to have escaped from Dachau (taking Jewish children with her)  and to have adopted and raised over 27 children.
And yet she left behind no heirs or relatives.
Almost no one, knew much about her and her funeral was attended by a very few people.
Edith left the the Up House to Barry Martin, a construction worker employed in a nearby building with whom she became friends during the last few years of her life. He looked through her belongings after she passed, hoping to find pictures or postcards from her life abroad but he didn't find anything.
No proof of her three husbands or pictures of her son, whom according to her stories,  died from meningitis at 13.
Eventually, Barry did sell the house (for far less offered to Macefield) but the unsolved puzzle encompassing Edith's life enhanced even more the legend of her persona generating a town hero.
Edith Macefield will always be known as that single woman who peacefully fought for everyone's right of not being boxed up in concrete and steel.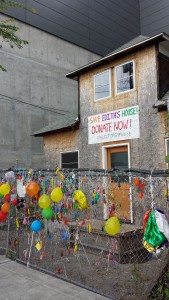 Whirlpool effects: